Dear Colleague,

Aravind Eye Care System takes great pleasure in inviting you to a unique and exclusive national symposium on Orthoptics, organised by the Department of Paediatric Ophthalmology and Strabismology, Aravind Eye Hospital (AEH), Madurai.

The science of Orthoptics and recent advances in the realm of binocular vision and strabismus presents a formidable challenge to ophthalmologists and orthoptists. A sound knowledge of systematic orthoptic work-up and non- surgical intervention is required to fill the lacunae in our practise of Strabismology.

The symposium will be hosted at LAICO, AEH, Madurai, on 31st October and 1st November 2015 with guest speakers from across the globe. It promises to present a unique opportunity for both orthoptists and ophthalmologists to brush up their basics as well as learn about recent advances in orthoptics, strabismus and nystagmus management.

The two day programme aims at exploring advancing research, providing up-to-date content in the field of orthoptics, giving the delegates an opportunity to share ideas and experiences as well as assimilate new scientific skills. It will also emphasize on advancements in the diagnosis and management of Nystagmus.

Apart from the scientific sessions, delegates will also get to explore one of the oldest cities of India. Madurai, situated on the banks of river Vaighai, is the soul of Tamil Nadu, and Meenakshi Temple, one of the greatest of Indian temples, is the soul of Madurai.

We look forward to your participation in the meeting.

With Warm Regards,
Dr P. Vijayalakshmi
Chief, Paediatric
Ophthalmology Services
Aravind Eye Hospital
Madurai
Dr. Shashikant Shetty
Organizing Secretary
Date & Time

October 31 : 8:30am - 6:00pm;
November 1 : 8:00am - 5:00pm;

Registration starts at 8.00 am

Venue: Lions Aravind Institute of Community Ophthalmology (LAICO), Auditorium Aravind Eye Hospital, Madurai.
REGISTRATION IS CLOSED AND NO SPOT REGISTRATION!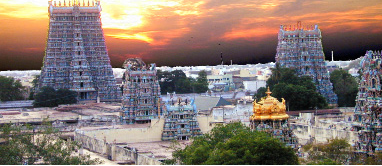 Madurai the "Temple City"
is home to the legendary Meenakshi Temple, said to be the oldest city in South India. Madurai stands on the banks of the sacred river Vaigai. The nearby tourist attractions include Kodaikanal, Thekkady, Rameswaram and Kanyakumari.